When you make a purchase, an account is automatically created for you at Hotmart so you can access the details of the transaction. 
You'll use the same profile to become an Affiliate or Producer. To enable these roles in your profile, follow these steps:
Access your Hotmart account at the link:

https://www.hotmart.com/en

In the top right corner, click the arrow next to your profile photo

Click on the option

Log in to Hotmart

Done! You will be redirected to our platform. You will now be able to register your own product or join an existing product as an Affiliate.
I want to be a Producer
After changing your profile, if you want to become a Producer, it's time to register your product. To do this, follow the steps below:
Access your Hotmart account

Open the left side menu, select

Products

Click on

Register Product

Choose what you want to sell by choosing one of the available formats: 
Do you want to know more about becoming a Producer? Click here.
I want to be an Affiliate
If you want to work as an Affiliate, follow the steps below:
In the left side menu, click on

Market

. In the Hotmart Market, you'll find all the products available for the affiliation. You can filter your search by several categories and find the ideal product for you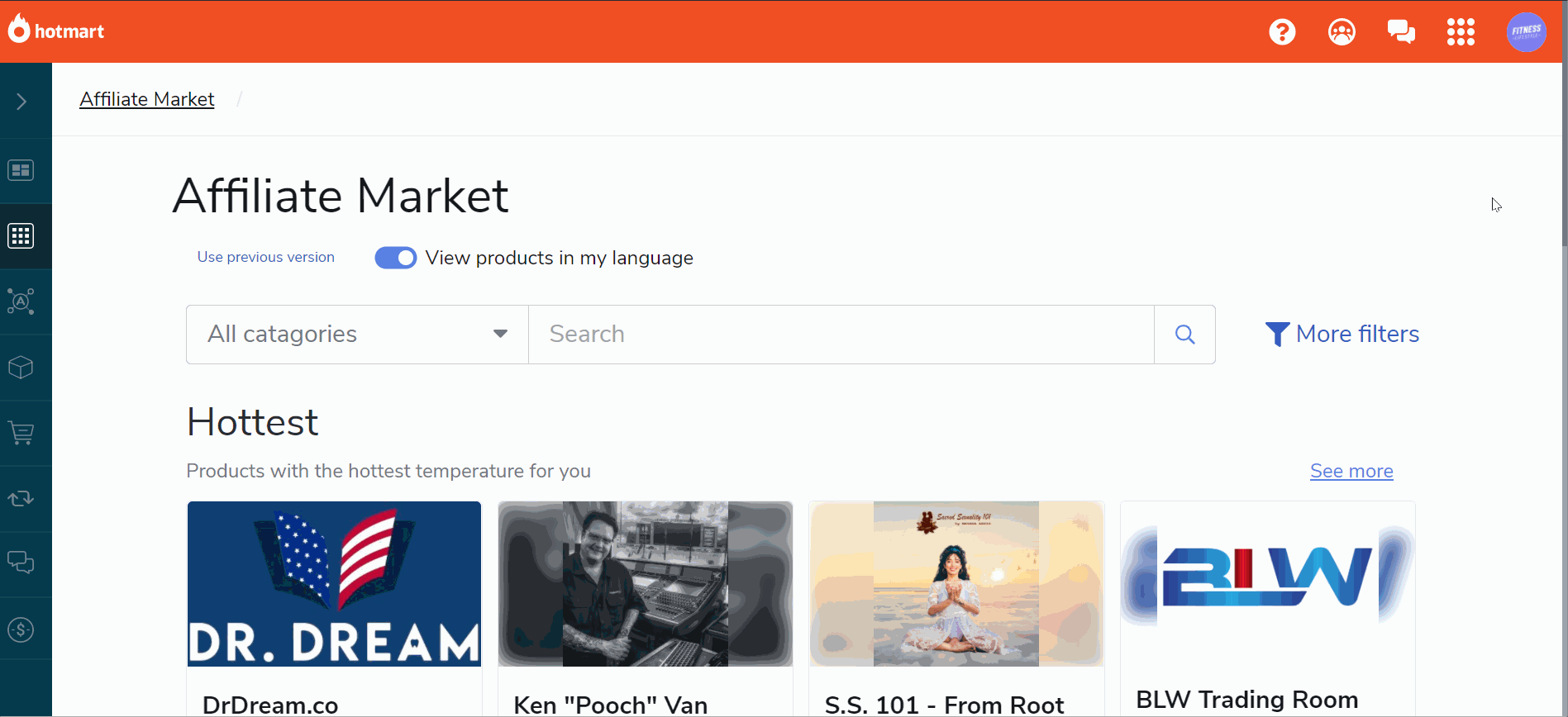 After finding the product, click on its image. A screen with more information about the product will appear. There, you'll find the Request Affiliation or Affiliate Now button.
If the Producer chooses to

approve the affiliation

, the

Request Affiliation

button will appear. If you choose this option, you must wait for your request to be approved. To see your affiliation requests, follow the steps below:
Click on

Products

Click

I'm an Affiliate

Select

Requests Sent

. In this tab, you will be able to track your affiliation requests using the filter on the right to select the product name or request status. You can also cancel any requests if you change your mind.
If the product allows for 1-click affiliation, you'll see the Affiliate Now button. By clicking on this button, you become an affiliate and will have immediate access to the promotional links (Hotlinks) to start promoting the product.
For more details on how to become an Affiliate, click here. If you have any other questions just contact our Customer Support. We'll be happy to help you!