The Hotmart platform is evolving. In the newest version, we aimed to deliver a more intelligent and intuitive way to navigate, helping your digital business reach its maximum potential.
The goal of these changes is to take our platform to the next level, showing that we understand your needs and creating a better experience. It's smarter, easier to navigate, and saves you time to spend on what matters: your content.
It's important to highlight that the changes are being made gradually. That means that only some of our users have access to the new and improved platform. If you don't have access to it yet, don't worry! The migration will take place soon.
What's new on the platform?
Strategy recommendations
From now on, the platform will learn from your behavior and start suggesting the best strategies for your business.
Product customization
Hotmart solutions to suit your business needs. Learn more about the tools that can help you manage your product and boost sales.
Better organization
Managing your product has never been easier. We organized our solutions and reports to help you save time and work more strategically to evolve your product.
New features 
Affiliate management, Affiliate Market, Bundles… As more solutions are rolled out, you'll continuously gain access to new features.
A brand-new menu
We've optimized our menu, so you can access everything you need in just a few clicks. Check it out!
Note: the changes are being made gradually. That means that not all of our users have access to the new platform yet. 
Here's the new layout:
The left-side menu has been optimized, and we've organized all Hotmart solutions in three simple categories:
Audience: tools for communicating and engaging with your audiences such as WhatsApp, Email Marketing, Webinar, and others.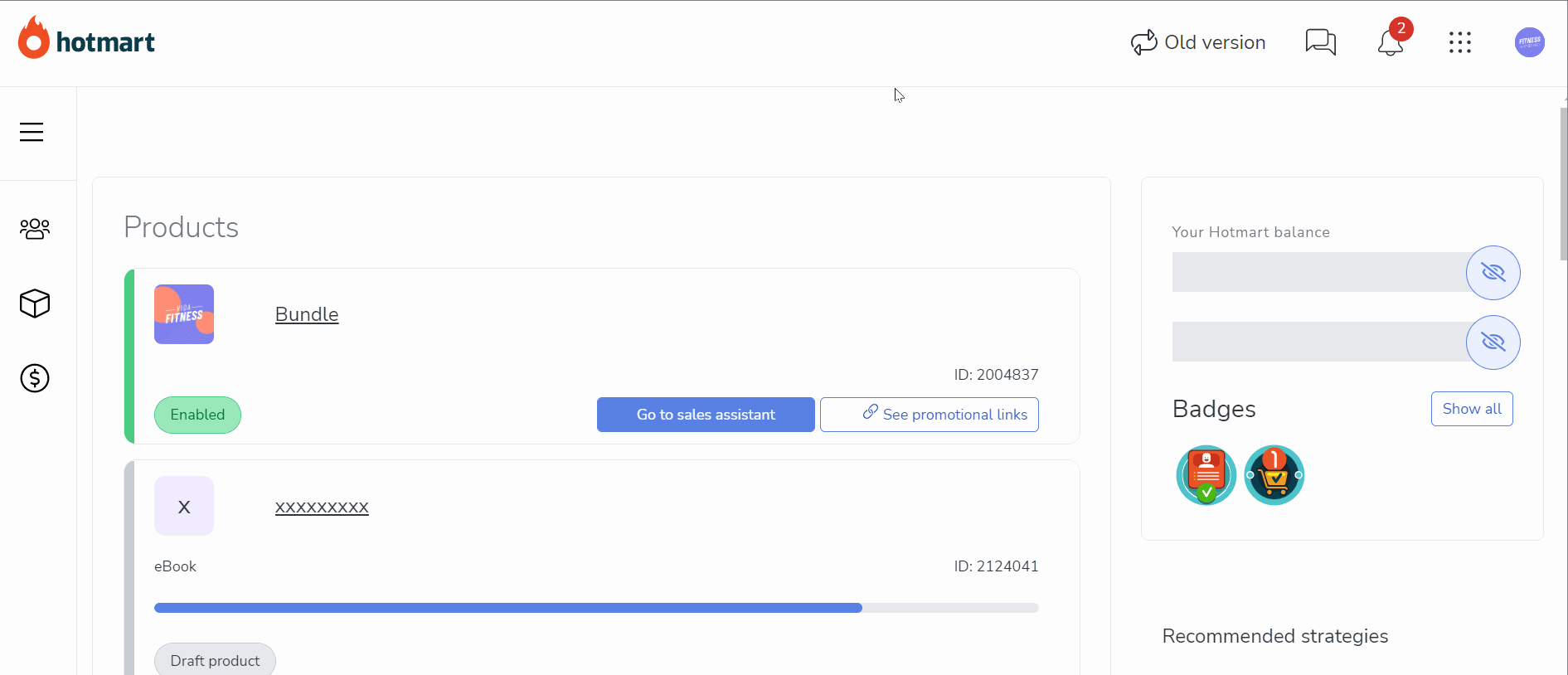 Products: where you manage the products you created or purchased and access the Affiliate Market and the Hotmart Club. Click on a product to display your options, such as pricing, promotional links, and product page.
Another important feature is our Sales Assistant, who recommends solutions to help you attract a bigger audience and sell more.
Sales: access the details of your transactions, balance, refunds, and reports, get solutions to boost your sales, and much more.
A new and improved platform to transform the day-to-day of your business. 
As we're gradually releasing the new platform, you'll find articles with step-by-step instructions for both the new and previous versions in our Help Center. Soon, everyone will have access to the new platform and the possibilities it has to offer.