Hotmart Producers are those who make digital content available for online sales. The Hotmart platform allows for a variety of products to be registered. Check out the options below.
To register a product at Hotmart, follow the steps below:
1. Access your Hotmart account, or create one via this link:
https://app-vlc.hotmart.com/login
2. On the left side menu, choose Products 
3. Click the option Register Product 
4. Determine the type or format of your product. Here are the options:    
              - Online Courses, Members Area, Subscription Services
              - Ebooks, Documents
              - Tickets for events
              - Screencasts, Movies, Clips
              - Audio, Music, Ringtones
              - Software, Downloadable programs
              - Images, Icons, Pictures
              - Serial numbers, Coupons
              - Mobile Applications
              - Templates, Source Codes
On the new screen, fill in your product's information:
     a) Enter the name* of your product, a description for you buyers with a minimum of 200 characters and choose a display image in a JPG, PNG or GIF format with a maximum size of 5MB
     b) Choose a language, country you primarily plan to sell in, and the subject of your product
     5.  click on Continue.
*Important: The name you choose when creating a product will be displayed to your buyers and throughout Hotmart. 
If you wish to make changes to the Product Name, go to the Basic Information menu. 
For existing products, the "Product Name" is updated in all Hotmart fronts based on any change in the "Basic Information" menu or "Product Page".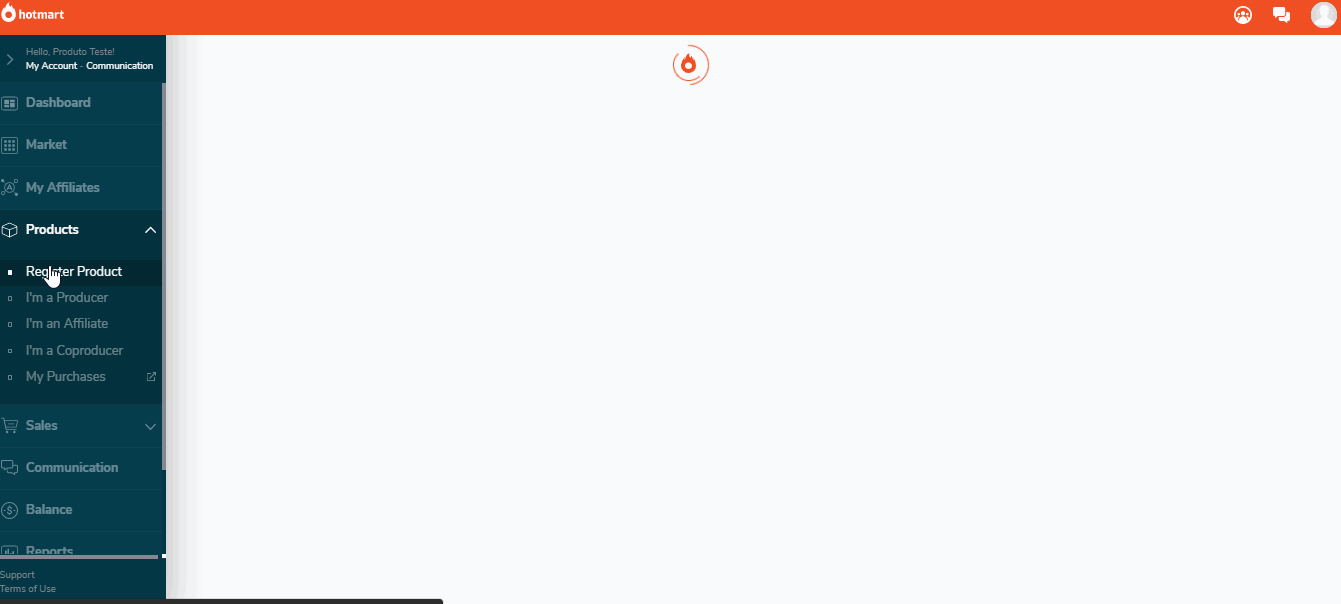 6. On the next screen, choose the currency your product will be sold in
7. Then, define the payment type ( one-time payment, smart installments, subscription plan). If you opt for smart installments, you'll need to enter the maximum number of installments.
8. Choose the deadline for reimbursement, which can be 7, 15, 21 or 30 days
9. Set the price of the product
10. Read the Terms of Use and, if you have agreed to them, click on Save
Now you'll see an overview of your product's information. On this page, you'll find a menu with the things that you can use with your product and the options for updating product information, including the information entered during steps 3 and 4 (except for format and type of payment).
If you'd like further information about these topics, click on the links below: 
Hotlinks
Offers and Coupons
Affiliate Program 
Coproduction
Checkout Builder  
Members site and subscription service
You'll also need to choose the way your buyer will have access to your product. They can access it through Hotmart Club, Hotmart's Members Area, or through an external members area.
If you choose an external members area, you'll need to fill in the access data that will be used for product registration.

 Product Registration
After completing the product settings, you'll need to finalize your registration. You'll only be able to complete your registration after confirming your personal and financial information on the platform.
To do so, click on the My Account option on the top menu, and then on the Personal and Financial Information tab.
When finalizing the registration, you need to confirm that you've read our Terms of Use. The registration process can take up to 3 business days. You'll be able to start making sales after this period.
If you have questions or problems regarding this matter, we suggest you get in touch with our Support under the subject PRODUCT REGISTRATION.