By using the LinkedIn pixel, Hotmart enables you to monitor your paid traffic campaigns on this social media. Keep reading this article to learn how to use this feature. 
Want to run ads on LinkedIn?
LinkedIn is a very important social media for the market. It can also help you strengthen your online presence as an authority in your area of expertise. Moreover, both Producers and Affiliates can promote digital products there, reaching a targeted audience.
Why is it important to monitor it?
Tracking the results of any action you take on digital media is critical. Data can be the basis for you to measure your efforts and create more assertive strategies. With Hotmart, you can track the campaigns you make on LinkedIn.
Learn how to embed the LinkedIn code on your website to track the results of your ads.
Find the LinkedIn Insight Tag
The first step is to find the LinkedIn Insight Tag code. To do this, take the following steps:
1. Sign in to LinkedIn Ad, the page containing the Campaign Manager.
2. Click on the account and campaign of your choice.
3. Click Account Assets and Insight Tag
If you don't have an Insight Tag yet, choose Install my Insight Tag.
4. If you already have one, click the Manage Insight Tag menu on the right and the See tag option.
5. On the I will use tag manager tab, click your partner ID to copy it.
Your partner ID can also be found in I will install the tag myself, as seen below: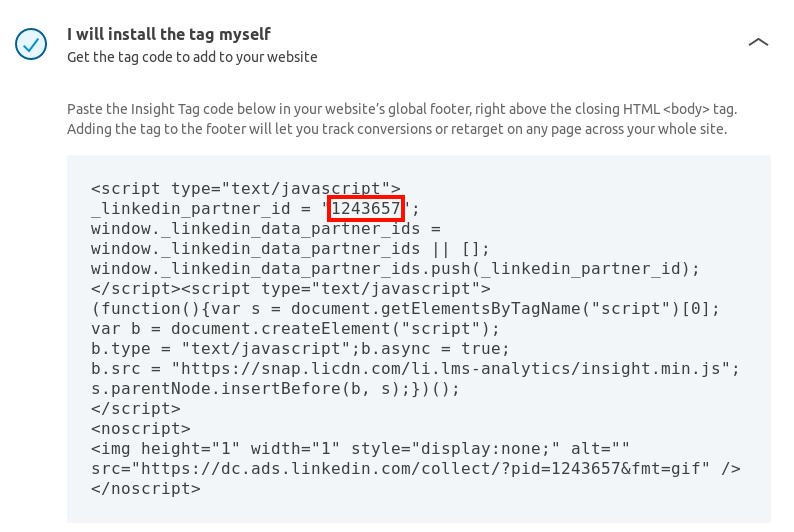 6. Paste the ID into the field provided and finish it. 
How to install the tracking pixel on the Hotmart platform 
1. Log in at https://www.hotmart.com/en/
2. Click Tools on the left side menu.
3. Click Tracking Pixel and choose the product.
4. It will open a screen with several options, just click on LinkedIn.
5. Paste the information you've just got on LinkedIn in the provided field. Take the opportunity to choose advanced settings.
Any questions? Please contact our Customer Support team.