You have already decided that you want to be an Affiliate and promote other people's products in exchange for commissions, haven't you?
Now it's time to choose the products with which you wish to affiliate. In this article, we'll present our Market's search tool so that you can find the right product for your audience.
The first step is to 

log in

 on the platform

 
On the side menu, click

Market
Use the search field to find a product:
In this field, you must enter your search query. It can be a specific product or a segment of products. (i.e: Lose weight)
You can organize your search results according to Hottest, Most loved and Most recent.
Tip: If you're just getting started, look for products with High Blueprint, as these are usually better to advertise. Products with high temperature usually sell well, but they are also those that have more Affiliates, that is, more competitors for you if you'd like to be an Affiliate. 
Use

Filters

to refine your search results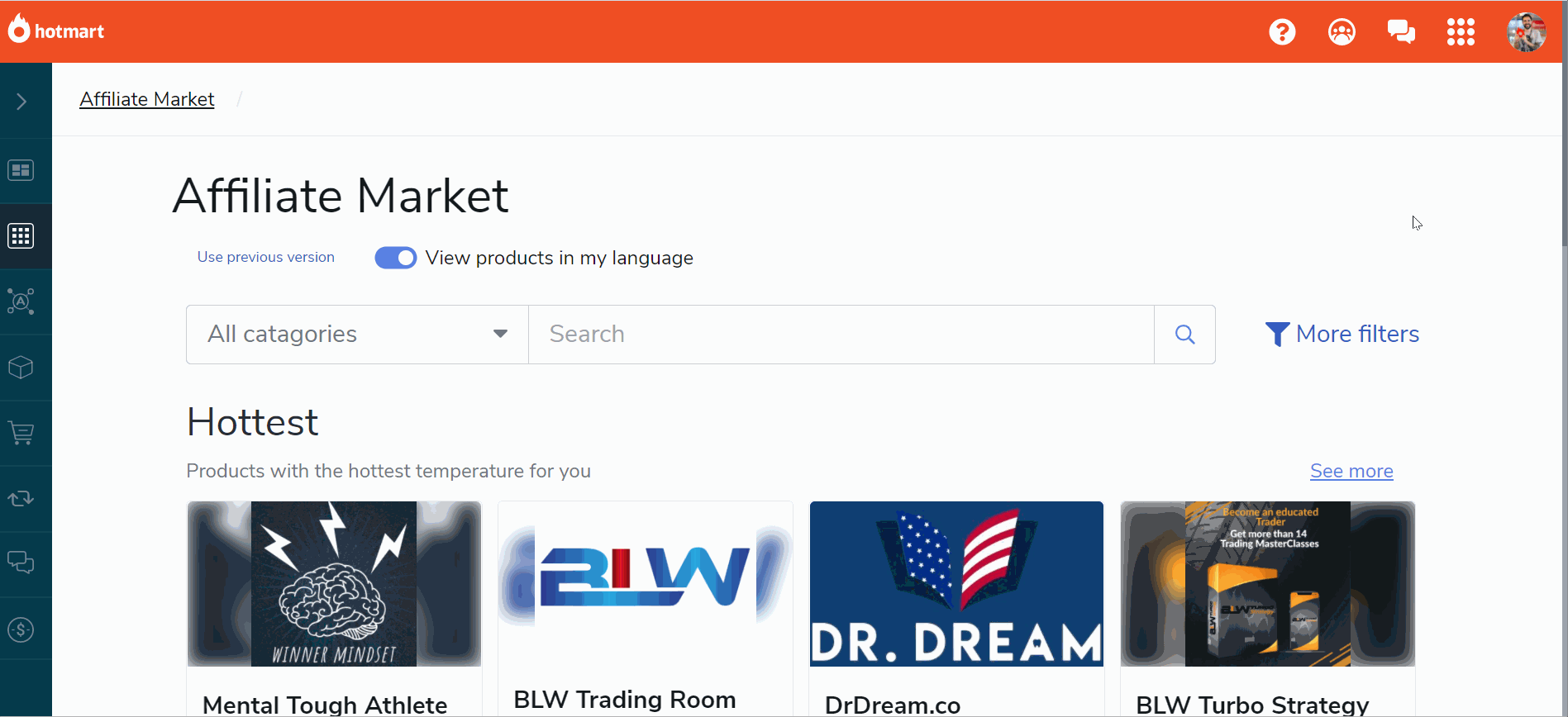 You can choose the following filters: Affiliation Type, Price, % commission, Commissioning Rules, Subject, Format, Currency, Language, Country, Tools and Affiliation.
Tip: If you're starting as an Affiliate, it's a good idea to search for 1-click Affiliation products, with lower prices (since these products require less persuasive comments to make a sale) and that use Media promotion tools (various materials that the Producer makes available for you use in the promotion) and Alternative HotLinks (pages that the Producer makes available for you to create different selling strategies). 
     5. Use our Market tabs:
You can search the Hottest (highest temperature), Most Loved (highest buyer satisfaction level) or Most Recent products.
See how easy it is to search for products on our Marketplace? Now, all you need to do is select those to which you wish to affiliate, wait for the Producer's approval (if it's a Affiliation by approval product) and start promoting the product in order to earn commissions.
If you have any questions about this topic, contact our Support Service with the subject, MARKETPLACE. Our team will be ready to help you.