In addition to making it possible to organize your course classes into modules, upload files in different formats, provide a certificate of completion, and increase interaction with your audience through comments, Hotmart, seeking to make products more accessible, also offers the option to include subtitles in your classes.
Hotmart is a global company that carries out transactions all around the world. By adding subtitles to your course, not only will you democratize learning among students of several nationalities and increase your product's reach, you'll also make learning possible for students with hearing impairments.
Several languages are supported for uploading subtitles and you can add subtitles to your videos in as many languages as you want! In addition to optimizing the delivery and display of your content, the Hotmart Members Area can take you further. If you want to learn how to add subtitles to videos in the Members Area, follow the steps below:
   1. Log into Hotmart here: https://app-vlc.hotmart.com/login
   2. On the left-side menu, choose Products;
   3. Click on I'm a creator and then on the course for which you'd like to enable subtitles;
   4. Click Access Hotmart Club in the upper-right corner;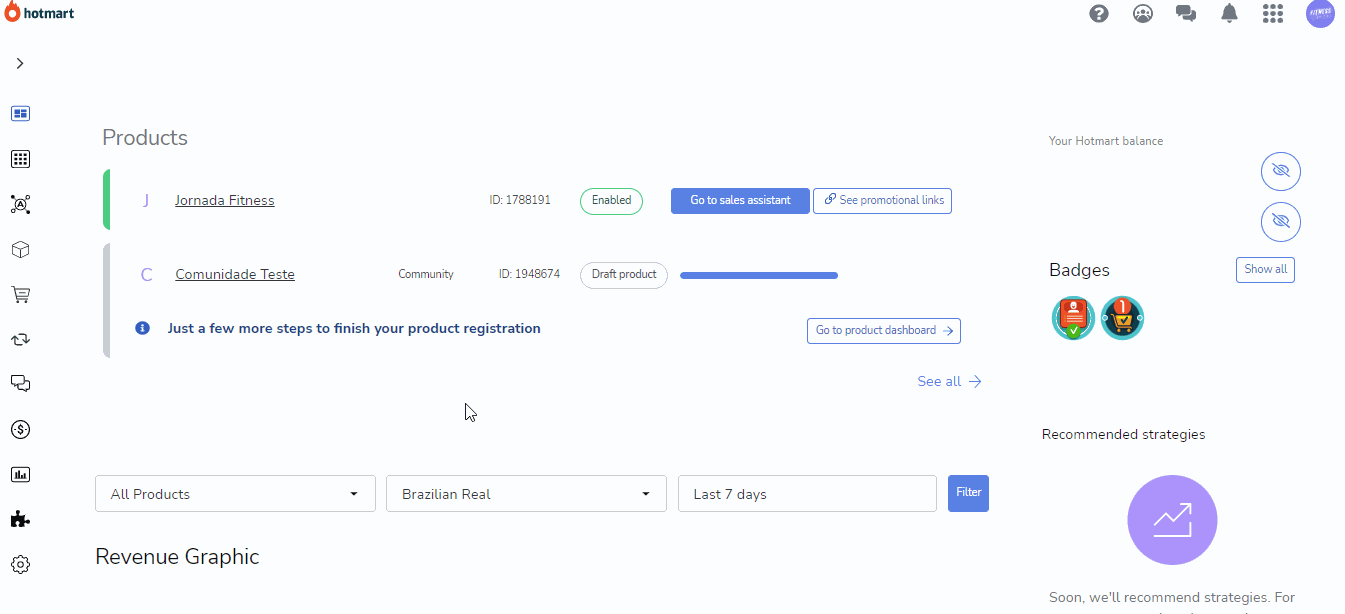 5. If you'd like to add the content in a new module, click on Add module;
   6. If you'd like to create content in an existing module, click on Content
   7. Enter the name of the page and select the media

If you like, you can enter content in the

Text

and

Extras

sections.

Configure the way your content will be released in

Settings

.



   8. In Subtitles settings, select the original language of your video.
   9. Click on Generate subtitles and select the language for which you want to generate subtitles. 
   10. With the subtitles generated, choose if you want to enable them or not.
   11. Click Translate to generate automatic translations of the subtitles in the languages of your choosing;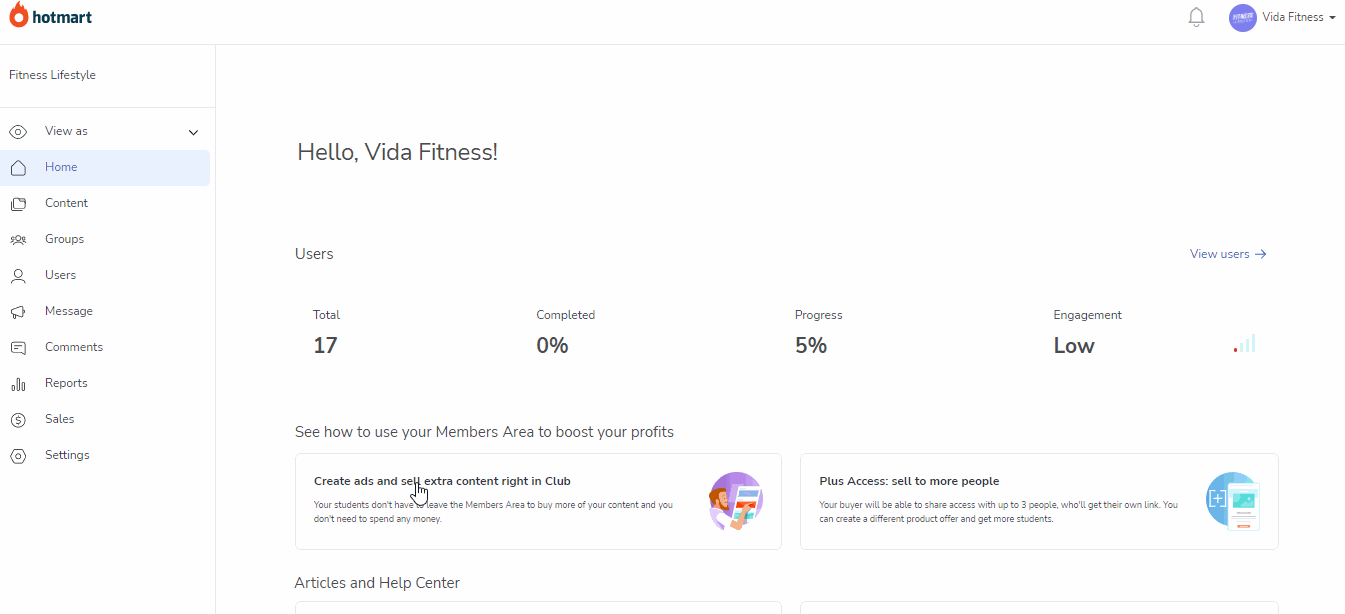 12. Choose whether or not you want to enable the subtitles in the player, review the content in the subtitle editor (Review), choose other languages for translation (Translation) or delete subtitles (Remove).
IMPORTANT!
We recommend reviewing the subtitles to ensure everything is okay. To do so, click on

Review

. In the

Subtitles Editor

field, you can select the section that needs to be adjusted on the video's timeline and edit it manually. 

It's also possible to add new subtitles by selecting the section and clicking on

Add subtitles

.

If you prefer uploading subtitles, just click on

or upload subtitles from your computer

(

step 9

of this tutorial). 
*Don't forget that subtitles can be uploaded in two file formats: srt and vtt.
How to download subtitles
In addition to reviewing subtitles, you can download and change them as you wish. To do so, follow the instructions below:
   1. After entering the Members Area of the desired product, click on Generate subtitles.
   2. After the process is finalized, the option Download subtitles will appear. Click on it to download the subtitles. 
   3. Open the file and make the necessary changes. Remember that the file will open with the correct timing for each section, since we have already synchronized the subtitles with the speech. Look at the example below: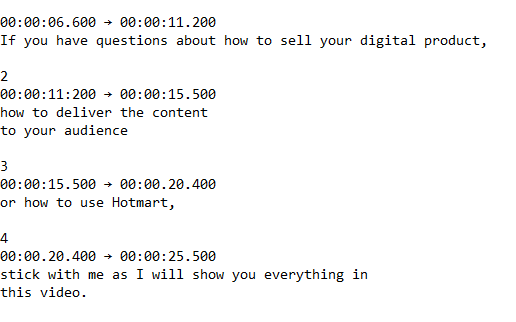 Just be careful when making changes so that the speech remains synchronized. For example, if the subtitles say "How to create ad copy for launches", and you want to change them to "How to create amazing ad copy for digital launches", be aware that you are increasing the content and it may become out of sync with the video.
   4. Save the file onto your device. 
   5. To upload new subtitles, click on Send subtitles. 
If you have any questions, contact our Customer Support team. They're ready to help you!