The sales page has given way to the new, more attractive product page, which is perfect to make the shopping experience even better. 
Our experts have created a new page for Producers to register and display their products with their most relevant information in a design structured to convert visitors into buyers.
If your product is a course that uses our Members Area, your viewers will now be able to see directly on the product page what the modules, classes and thumbnail of the videos are before making the purchase. And if your product is another type of file, some important details such as format, number of pages, and technical information will also be available as selling points for visitors.
The new page features detailed information about Producers such as name, image, bio (or story), plus social media, and official contact channels. There's also the possibility of embedding a sales video hosted on YouTube or Vimeo. It also has an on-page checkout, helping to greatly improve the user experience during the shopping journey.
For those using Hotmart Ask, our free survey tool, you can display student ratings directly on your product page with a single click.
You can also count on Hotmart's SEO expertise to make your page increasingly relevant to internet search engines such as Google and Bing.
Another plus is the Q&A section, a great opportunity to dispel many objections from potential customers who are interested in buying your product.
You can create a product page both on Hotmart and externally, and use both at the same time to promote your products. Check out how to configure each one!
Index:
How to create a page generated by Hotmart
Access your Hotmart account at the link:

https://app-vlc.hotmart.com/login

In the left side menu, click on

Products

 

Click

I'm a Producer

and select the desired product

Access the

Product Page

on the side menu

Click on the

Hotmart

tab

The "Product Name" field will already be filled in with the information provided during the product creation step. (If you wish to make changes to the Product Name, click on the "Edit Name" icon).*

Select the

main image

in .JPG, .PNG or .GIF format with a max. size of 5 MB and preferably 600x600 pixels

Describe your product to your buyers. Remember: the more information you give, the better!

In the next step, you should describe the advantages of your product with a maximum of 2,000 characters, what is your target audience, a video link with the presentation of your product (optional), and the tags with the words that your audience will use to find the product.

Remember how I mentioned Hotmart's search earlier? On

Increase your chances of selling

, you can check the field

I want Hotmart to help promote my products on its official channels

. It is important to note that your product must meet our quality standards, which considers several factors. Click on the question mark at the end of that field to learn more.

On

Buyers' opinions,

you can choose whether you want the buyers' reviews to be shown on your product page. This can be done with our tool Hotmart Ask, which allows you to create surveys. Learn more about Hotmart Ask

In Advanced Options, you can change the author of the page and the URL

Check the price of your product in

Standard offer

. You also have the choice to change this amount by clicking on create a new offer.

Click on

Terms of Use

for more information about terms and conditions

Finally, click Save

At the end of the page, you'll be able to view the published profile or disable the page. 
*For existing products, the "Product Name" is updated in all Hotmart fronts based on any change in the "Basic Information" menu or "Product Page".
IMPORTANT: Information such as name, profile picture, description, social media link, and whether you want to use your Club figures (total number of courses and approximate number of students) need to be informed on your Public Profile within My Account.
Keep reading this article if you want to add more pages to promote your product.
How to add a page from the Hotmart Extensions Page Creator
Access your Hotmart account at the link:

https://app-vlc.hotmart.com/login

In the left side menu, click on

Products

 

Click

I'm a Producer

and select the desired product

Access the

Product Page

on the side menu

Click on the

Extensions

tab.

Learn all about Hotmart Extensions and how you can use them to grow your business.
If you haven't activated Hotmart Extensions yet, this image will appear:
6. Click Create Page
7. You will be redirected to another page. There, click Create Pages. You can create a page for sign-up, sales, home, webinar, 'thank you', upsell, launches, HLS, or start one from scratch. Choose a template or a new blank page.
After clicking on the best option for your business, you will customize your page.
8. Give your page a name by updating the New Page section. This name will not appear to your visitors; it's just a way to organize your pages. 
9. Time to set it up! In the left side menu, you'll find all the options you need to set up your page.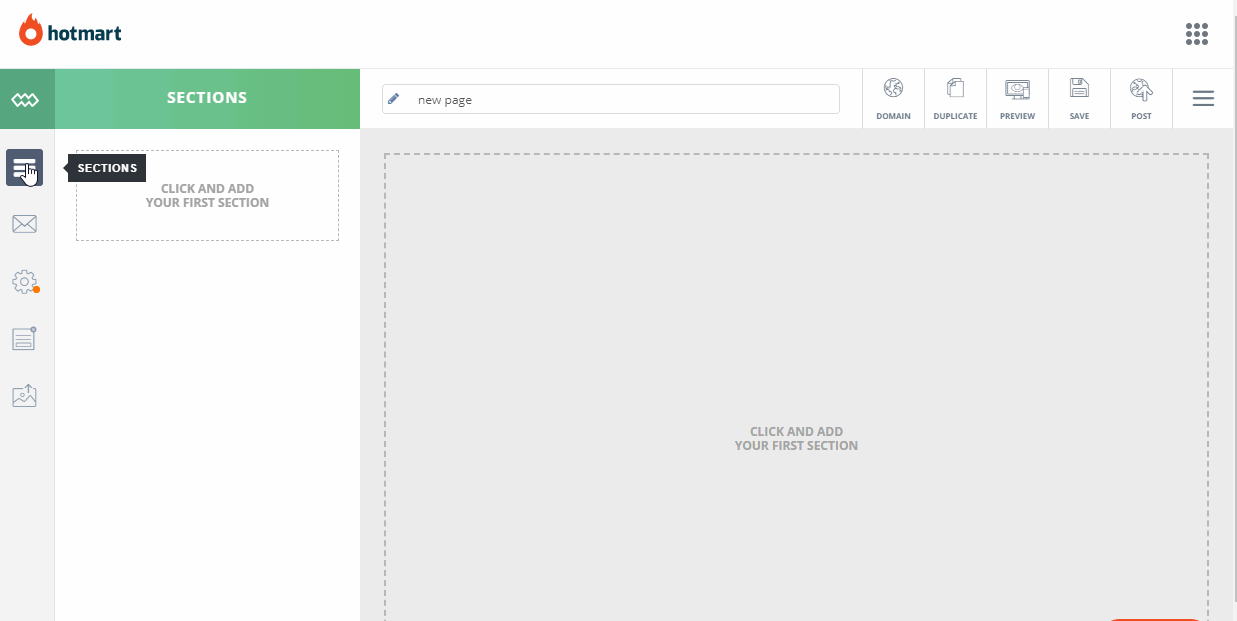 In

Sections

, you can add folds, that is, blocks of content on the page

In

Email service

, you can add a server

In

Settings

, you can customize the SEO, chat, image, language, scripts, color palette, URL parameter, and more.

In

Popup Central

, it's possible to add and set up the automatic window

In

Media Central

, you can add files in many formats to suit your style 
For more details, check out the page: How to use Hotmart Extensions Page Creator.
How to add an external page
Access your Hotmart account at the link:

https://app-vlc.hotmart.com/login

In the left side menu, click on

Products

 

Click

I'm a Producer

and select the desired product

Access the

Product Page

on the side menu

Click on the

External Page

tab

Enter the address of the page you want in the

URL

field
How can you included a pixel on the Hotmart Product Page?  
To track the pixel collected on the Hotmart Product Page, select the Tracking Pixel tool and choose the desired services. After entering the Pixel code, enable the option Hotmart Product Page visits.
My Sales Page was automatically deactivated 
Once activated, your Sales Page will be visible to potential buyers. If it's been automatically disabled, check out this article.
If you have any questions or find any difficulty when you try to register at Hotmart, contact our Customer Support team with the subject PRODUCT PAGE and they will be ready to help you.