If you wish to withdraw your commissions using Payoneer, just follow the steps below:
1. Login to your Hotmart account through the link: https://www.hotmart.com/login
2. On the left side Menu click on Balance 
3. Create a Payoneer account through the link Click here to create your Payoneer account.
On this new screen, select the receiving methods you wish to accept (pre-paid card or bank transfer) and continue your registration.
OBS: if you already have a Payoneer account, you can integrate it to Hotmart, click on Already have a Payoneer account?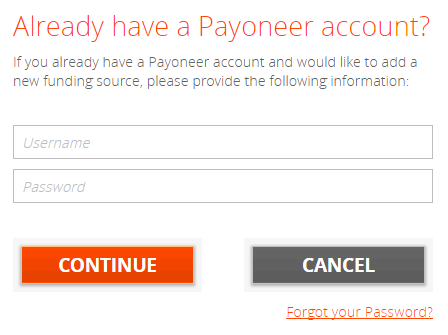 4. After you register, go back to the Balance screen on Hotmart 
5. Click the button Withdraw on the Payoneer field 
All set! All amounts will be automatically sent to your Payoneer account.
To understand more about commission withdrawal, read this article.
If you need, you can get in touch straight with Payoneer at this addresses.
If you have any questions related to withdrawals, get in touch with our Customer Support!